Safety Usage Guide
HEALTH & SAFETY WARNINGS: TO REDUCE THE RISK OF PERSONAL INJURY, DISCOMFORT OR PROPERTY DAMAGE, PLEASE ENSURE THAT ALL USERS OF THE HEADSET READ THE WARNINGS BELOW CAREFULLY BEFORE USING THE HEADSET.
IT IS IMPORTANT TO REMAIN SEATED USING THE HEADSET UNLESS THE CONTENT EXPERIENCE REQUIRES STANDING.
To reduce the risk of discomfort, adjust the viewing focus for each user before use of the headset.
Make sure the headset is level and secured comfortably on your head, and that you see a single, clear image.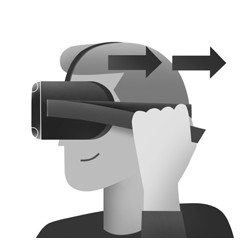 A comfortable virtual reality experience requires an unimpaired sense of motion and balance. Do not use the headset when you are: Tired; need sleep; under emotional stress or anxiety; or when suffering from cold, flu, headaches, migraines, or earaches, as this can increase your susceptibility to adverse symptoms.
Always be aware of your surroundings before beginning use and while using the headset. Use caution to avoid injury and remain seated unless your content experience requires standing.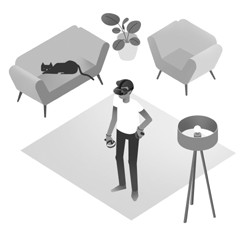 Use of the headset may cause loss of balance.
Remember that the objects you see in the virtual environment do not exist in the real environment, so don't sit or stand on them or use them for support.
Serious injuries can occur from tripping, running into or striking walls, furniture or other objects, so clear an area for safe use before using the headset.
Take special care to ensure that you are not near other people, objects, stairs, balconies, open doorways, windows, furniture, open flames, ceiling fans or light fixtures or other items that you can bump into or knock down when using—or immediately after using—the headset.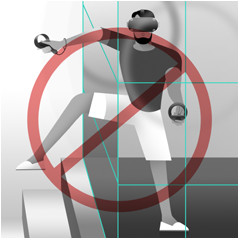 Remove any tripping hazards from the area before using the headset.
Take at least a 10 to 15-minute break every 30 minutes, even if you don't think you need it. Each person is different, so take more frequent and longer breaks if you feel discomfort.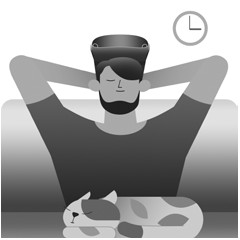 You should always take regular breaks and you should decide what break schedule works best for you.
We recommend seeing a doctor before using the headset if you are pregnant, elderly, have pre-existing binocular vision abnormalities or other serious medical conditions.
Adults should monitor children who are using or have used the headset for any of the symptoms described in these health and safety warnings (including those described under the Discomfort and Repetitive Stress Injury sections) and should limit the time children spend using the headset and ensure they take breaks during use.
Prolonged use should be avoided, as this could negatively impact hand-eye coordination, balance, and multi-tasking ability. Adults should monitor children closely during and after use of the headset for any decrease in these abilities.
Remember that while using the headset you may be unaware that people may enter your immediate area.
Do not handle sharp or otherwise dangerous objects while using the headset.
Never wear the headset in situations that require attention, such as walking, bicycling, or driving.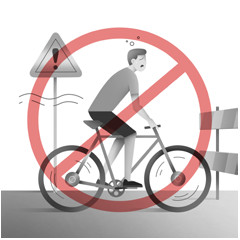 Make sure any headphone cables if used are not tripping hazards.